This is the route I take when I need a break, and a little exercise.

It starts following the railway tracks adjacent to my apartment block, on which long coal trains travel twice a day destined for the power station whose chimney is a landmark for the area. Halfway along there is an impromptu crossing point where gaps have been knocked in the walls either side of the tracks, making a shortcut for the commuters to and from Sihui subway station (at this point there is a very good fruit stall and a very stinky tofu vendor) (bad luck if you want to cross the lines when a train is coming——did I say they're long?).

Once under the elevated 4th Ring, you cross and turn left to follow the road round to where a stream vanishes under the Sihui Bridge. Follow this stream, with its fountains evoking some kind of magical water palace (evenings only) (and which might be warm water runoff from the power station as you get waves of hot air hitting you as you walk along here), all the way to Shin Kong Place, taking care of the crazed paving which lacks any sure footing.

Once at Shin Kong find whatever takes your fancy, and then retrace route.


这是一条当我需要休息和锻炼时会选择的路线。

这条路线从可一直延伸到我的公寓大楼附近的铁路开始。每天有两趟很长的运煤火车经过,开往拥有这个地区地标性烟囱的发电站。半路上,铁路一边已有很多裂缝的墙上出现了原本不存在的"断墙", 成为进出四惠地铁站的乘客的捷径(在这个地方有一个很好的水果摊和一个臭豆腐摊)(如果当你想穿过铁路时火车正开过来那样就不走运,我不是说过它们很长吗?)

在四环高架桥下,你穿过十字路口向左转,沿路走到河流消失在四惠桥下的尽头。沿着河流走,有一座创造出神奇水上宫殿的喷水池(只在晚上)(可能是从发电站流出的热水,因为当你沿路走的时候能感受到热空气流),所有的路都通向新光天地,当心脚下,不能确保都是完好的路面。

一旦在新光天地找到引发想象力的东西,就会重走一遍路线。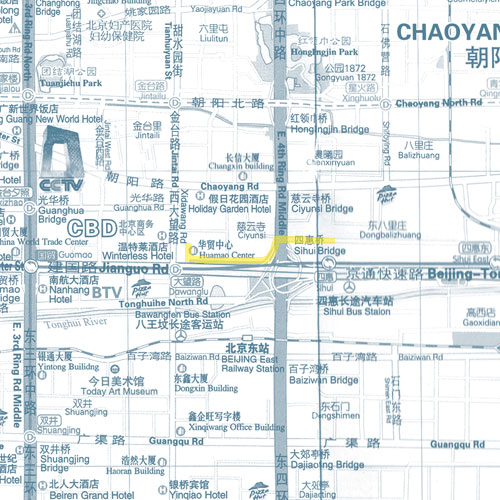 railways and water
由ES提交,41岁,男,作家
submitted by ES, 41 year old male writer
每个星期4次,20分钟的步行
20 min, by foot, four times a week
Beginning: power Station chimney in distance.

起点:远处发电站的烟囱
Looking back at the crossing point across the tracks.

回头看穿过铁轨要经过的"断墙"。
The tracks.

铁轨
Under the 4th Ring, where the tracks cross the road.

四环下,铁轨穿过道路。
The stream and fountains, take the path following the stream just visible to the left of the railings.

河流和喷水池,选择了河流旁只可见左侧栏杆的路
Where the stream disappears, to continue its route hidden under Sihui Bridge.

河流消失处,在四惠桥下继续流淌
Bad paving, take care!

坏的地面,当心!
A round building.

一栋圆形建筑 
Destination.

目的地